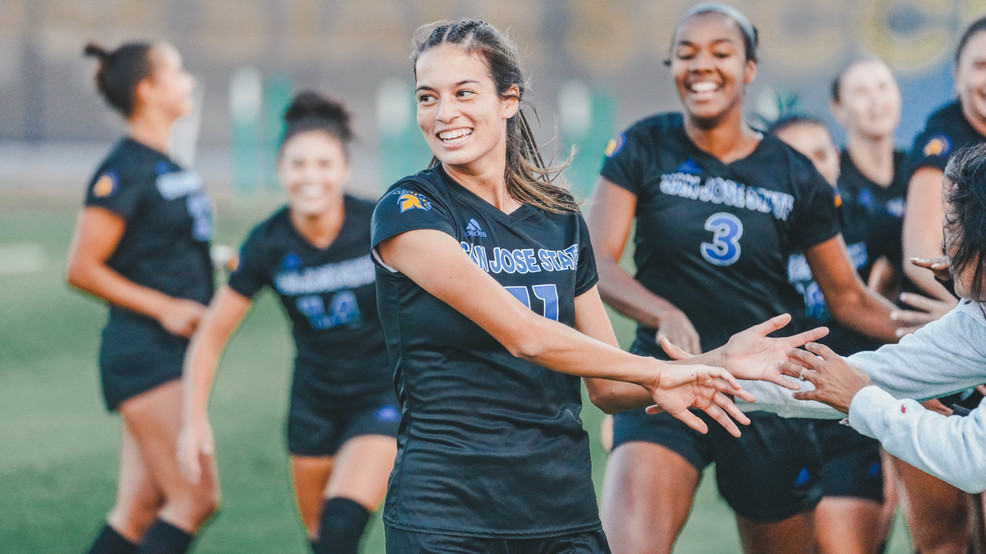 When San José State midfielder Bella Flocchini stepped to the ball to take a penalty kick during the Spartans' Mountain West semifinal game against New Mexico last week, she knew it was a big kick.
Any penalty kick in a shootout is a big moment in a soccer match. But Flocchini, a 2021 Galena High graduate, didn't know exactly how big the moment was, and, in hindsight, that might have been beneficial.
"The one against New Mexico, I was really nervous for," Flocchini said. "But, honestly, when I was stepping up to take it, I didn't know that if I made it we won. I was just kind of, like, 'OK, I'm just going to make this one.' I was super grateful because our goalie had already saved two PKs, so it definitely took some of the pressure off me."
When Flocchini buried her penalty kick in the left side of the net, it sent SJSU to the MW Tournament finals, a feat she didn't truly realized until she saw her teammates' reaction.
"I saw all our team just running toward me," Flocchini said, "and I was, like, 'Oh, my, God, we won! What?' And then I was cheering, and I was super hyped."
In the MW Tournament title game against Wyoming, Flocchini repeated the feat of converting a crucial penalty kick as SJSU won 6-5 in a shootout to clinch the conference's automatic berth in the NCAA Tournament. It marks the Spartans' first trip to the tournament since 2018 and will be Flocchini's debut on the national stage. The sophomore will lead SJSU against No. 3 seed Stanford at 7 p.m. on Laird Q. Cagan Stadium in Palo Alto.
"This season has just been great because I feel like we're all really close," Flocchini said. "We all believe in each other. We're all fighters, and I think we just all work really well together as a team. That's definitely helped us this season get as far as we have."
SJSU struggled to start this season, losing its first three matches and not scoring its first victory until its seventh game of the season. At one point, the Spartans were 3-5-4 before finishing the season strong, winners of seven of their last eight matches if you include the MW Tournament. On a defensive-oriented team — SJSU allowed just seven goals in 14 MW matches — Flocchini has been one of the team's biggest sources of offensive production. She ranks second on the team in goals (three) and assists (three) and was named second-team all-conference. After appearing in just six games as a freshman, she's started all 21 this year.
"My first season, I got hurt," Flocchini said. "So this season I was grateful to just be back playing. I think that's why I just felt so much better this year because it felt so good to not be injured and to be a part of the team and finally just kind of get to play. I think I was just more excited to even be out there."
Scoring goals is something that's come easily for Flocchini, Nevada's large-class record holder in career high school goals with 118 in 80 games. She scored at least 30 goals in each of her final three seasons at Galena, her senior campaign being the most impressive. Due to COVID-19's impact on prep sports in Nevada, Galena played only 11 games as a senior. Flocchini needed 30 goals to set the state record over those 11 games. She basically had to average a hat trick a game, a goal she accomplished, notching four games of four-plus goals as Galena out-scored its opponents, 50-1, that season. She's also tied for sixth in large-class state history in assists with 47 while being named the Gatorade state player of the year in girls soccer in 2020-21, the only Northern Nevada player to win that honor in its 25-year history.
"I loved playing high school," Flocchini said. "It was really fun for me, and I think my coach Annie (DiLoreto) really helped me grow as a person and a player. I think playing high school helped me not only with my technical skill and working on my soccer IQ, it also helped build confidence, which I think is really important going into playing in college."
Coming out of high school, Flocchini was recruited by a variety of schools but SJSU stood out, in part because Flocchini's grandfather, Anthony Shimizu, played basketball for the school in the late 1950s. After a visit to the school, she was sold.
"My grandpa went there and my grandma," Flocchini said. "I think that's where they met. But I just really like the Bay Area. It's kind of where my parents grew up, too, so it just felt like home for me. And the first thing I was looking for in a school was that I felt comfortable going to school there. Let's say I wasn't playing soccer and I was there for school. I really like the campus, the school and it just kind of worked out. They saw me at a tournament in Vegas, and I just kind of fell in love with it."
Flocchini will get to stay in the Bay Area for the Spartans' first-round NCAA Tournament matchup at Stanford, which went 16-2-2 this season, including 9-1-1 in the Pac-12. After not getting to play in the state tournament her senior season at Galena because the pandemic canceled those events, Flocchini will get to step on the big stage again.
"I'm really excited," Flocchini said. "It's kind of like a dream come true. You always hope you'll make it to the NCAA at least once in your career in college. So, I'm just really excited, and I know Stanford's a really good team, so I'm just excited to go out and go play again."
You can watch Bella Flocchini's full NSN Daily interview at nevadasportsnet.com.
Article Originally Published by Chris Murray on Nevada Sports Net.